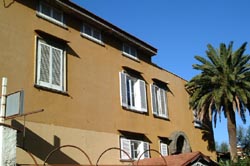 Façade of Villa Kalimera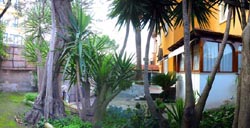 Courtyard of Villa Kalimera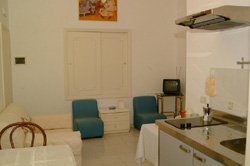 Living-room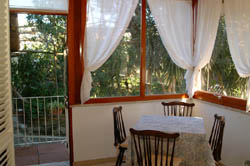 Detail of one of the apartments
LOCATION:
These modern apartments are located in a noble Villa which belonged to the patrician family Serra Capriola. This old mansion is at Capo di Sorrento, 1 mile away from Sorrento centre. These apartments are advisable above all for those travellers who love nature and relax with comfort: infact these houses are in a typical quiet orange-grove and 400 mt away from the gorgeous rocky beach Bagni della Regina Giovanna (steep descent) where, still there 2000 years later, the ruins of a Roman villa are. At the same time these apartments provide air conditioning, TV Colour, an independent access to its autonomous court-yard where our guests can park their cars for free, shops nearby. Besides, tourists can reach Sorrento centre easily to appreciate its nightlife.

DESCRIPTION:
Two-roomed apartment, square meters 35, sleeps 2+1, (rate code: type A), composed of: independent entrance, living-room with sofa- bed for 2 people and cooking-corner, a double-room, bathroom with shower and bath, lumber-room, wide terrace lighted and equipped with a table and chairs.

AMENITIES:
Air Conditioning TV Color Free car parking in the property- Free bathing on the rocks Sandy beach Puolo is 700 m away reachable on foot or by car (car parking at the end of the way) - Post Office and Bus stop nearby - bar, food shop, tobacconists nearby.

BATHS OF THE QUEEN JOHANNA:
If You choose the rocky beach with torquoise water of the Baths of the Queen Johanna You have to follow an ancient walkway paved in stone (steep slope) and that winds among cultivated terraced olive groves which descend to the sea. This is a walk not to miss: You go down this shaded path and You enter into a forgotten dimension, without traffic or noise. Roman patricians and princes and princesses in medieval times have walked the same way to reach their villas by the seaside. Infact down there, when You reach the beach, You can find the famous ruins of the Roman villa of Pollio Felice where, still nowadays, You find nice mosaic floors and some rooms in good conditions.

PUOLO BEACH:
If You prefer sandy or pebbly beaches You can go to Puolo beach, which is 15 minutes on foot from Kalimera apartments. You can walk along the main road (in the direction of Massalubrense) and after the first bend (200 meters 182 yards - away from Kalimera apartments) You can turn to the right and a narrow way leads to Puolo beach where You can find public and paying beaches, restaurants and bars on the seashore. It can also be easily reached by car from Kalimera apartments: paying car parkings available.