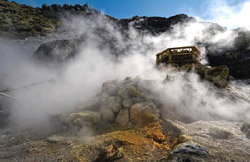 GUIDED VISIT FULL DAY
- Phlegraean Fields
DURATION:

7/8 hours

PRICE:

EUROS 250

AVAILABILITY:

All-year-round










PRICE:

The price includes only the guided service

Other services like BUS, TICKETS ecc. are not included

WE CAN PROVIDE TICKETS AND BUS AT AN EXTRA COST.

ADMISSION:

Ticket price € 4,00 (valid for 2 days and to visit 4 sitesi archeologici : the Neronian-Flavian Amphitheatre - Cuma - Archaelogical Museum of Phlegraean Fields, Castle of Baia.

Solfatara crater: Price € 6,00. Groups of at least 15 people € 4,50. -
Details of the excursion :
TOUR SCHEDULE
Meeting with the English-speaking guide
Transfer to Phlegraean Field and private guided visit
1 hour of free time for lunch - not included
Transfer to Cuma
Guided visit of the Cave of the Sibyl
Back to the Hotel or the cruiseship
Your Guide will meet You at the pre-arranged time You decide to start this tour.

Full Day tour of the Phlegraean Fields includes:

Solfatara of Pozzuoli : it is a shallow volcanic crater at Pozzuoli, near Naples, southern Italy; it is part of the Campi Flegrei volcanic area. It is a dormant volcano, which still emits jets of steam with sulphurous fumes.

The Temple of Serapis of Pozzuoli: It is considered the city's symbol. The "temple" was actually a marketplace. Its name derives from the misinterpretation of its function after a statue of the god Serapis was found in 1750 at this location. The Macellum includes three majestic columns in cipolin marble, which show erosion from molluscs when, at an earlier time, the ground level was much lower due to bradyseism, and sea-water could flow in

The Flavian Amphitheater: It is located in Pozzuoli, is the third largest Roman amphitheater in Italy. Only the Roman Colosseum and the Capuan Amphitheater are larger. It was likely built by the same architects who previously constructed the Roman Colosseum. The name Flavian Amphitheater is primarily associated with the Roman Colosseum.

Antro della Sibilla: The famous cave was discovered by Amedeo Maiuri in 1932, the identification of which he based on the description by Virgil in the VI book of the Aeneid, and also from the description by an anonymous author known as pseudo-Justin. The cave is a trapezoidal passage over 131 m long, running parallel to the side of the hill and cut out of the volcanic tuff stone.

THIS TOUR WILL OPERATE RAIN OR SHINE, SO BE PREPARED FOR ALL WEATHER CONDITIONS.


THE PRICE OF THIS TOUR IS EURO 250. ENTRANCE FEES ARE NOT INCLUDED.